You may feel that no matter how hard you try, there is always an area in the house that is dirty. Cleaning is something you have to carry out frequently. There are certain areas that will require regular cleaning such as the kitchen and the bathrooms. These areas are widely used and there can be a lot of dirt that can get accumulated. But there are certain areas that we forget to clean and even areas that we don't think about cleaning.
When you hire house cleaners Brisbane, they will discuss your requirements and let you know their plan for the cleaning procedure. You can even hire them to come to the house routinely if you are unable to carry out frequent cleaning. This will help with home maintenance and ensure that any repairs are looked into. Experienced cleaners will know which areas are often overlooked in a house. One such area is the dishwasher. While the purpose of the dishwasher is to keep all your dishes clean, it doesn't exactly have a self-cleaning option. So you will need to clean the filters so that old food particles and grime are scrubbed properly. You can also add baking soda to the inside and switch the dishwasher on at the hottest setting. Furniture can also accumulate a lot of dust and dirt. We tend to clean the indoor furniture from time to time but often, outdoor furniture tends to get overlooked. Even though they are more resistant to weather than indoor furniture, you need to remove the accumulated dust and dirt so that they remain in a good condition. You can use a pressure gun to hose the furniture down with water. You can use some mild detergent and a soft microfiber cloth to remove the dirt.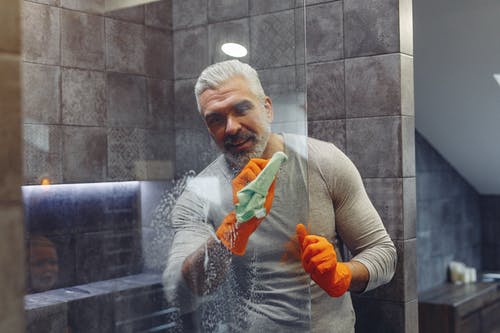 If you are a fan of coffee and you have a drip coffee maker, think about how many times you have cleaned it in the last few months. When this is not cleaned regularly, it can be an ideal environment for the growth of mildew and mould. You can use vinegar and water to clean the coffee maker. This solution can be run on a half-brew cycle to ensure that most of the dirt is taken care of. While we tend to clean windows, curtains and upholstery doesn't get the same treatment. You can use a vacuum on the curtains and the drapes. Make sure that you use a soft brush attachment. You can do this when you are vacuuming the floor as usual.
Lampshades and light fittings tend to accumulate a lot of dust as well. And as they are in different shapes and materials, it can be difficult to clean them properly. The dust that is retained on the fittings can affect indoor air as well. And it will block the light from reaching outside properly. You can check the type of fabric that the lampshade is made of and search how best to clean it so that no damage is done to it. If you have a regular cleaning service, you can ask them to take care of all the fittings and lampshades as they will understand which cleaning methods are to be used. Throw pillows that are set on the indoor furniture can collect quite a lot of dust as well as bad odour. You need to make sure that the covers are washed once every two weeks. It is best to purchase or custom made machine washable covers as this will make the cleaning routine a little easier for you.